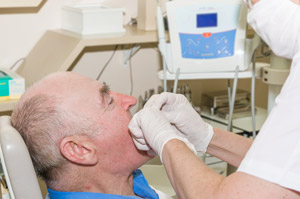 As you get older, you may have dentures or dental implants. These dentures and implants need to be checked by your dentist. If you take medicine that makes your mouth dry, or makes your gums grow, you need to have a dentist take a close look.
A dental exam can include some or all of these procedures:
Health History
Examination and Treatment
Cleaning
Advice
Maintenance
Health History
Tell your dentist:
If you smoke.
About any health problem or medical condition you are being treated for.
About any changes in your general health.
About any allergies you have.
About any medicine you are taking.
About any changes in medicine since your last visit.
About any fears you have about going to the dentist.
About any dental or mouth problems you have.
About any way the dental office could make it easier for you to get around (if you have a cane, a wheelchair, or a walker).
About stress in your life, because stress can affect your oral health.
Examination and Treatment
Everybody needs regular dental exams. The reason is simple: even if you brush and floss every day, you cannot see all the parts of your own mouth.
Your dentist looks for gum disease, cavities, loose fillings, broken teeth, infection, cancer and signs of other problems that could affect your general health. Many small problems can be caught before they get big. Many small problems can be treated right away.
Cleaning
There are two parts to cleaning. First, your dentist (or the dental hygienist) scrapes away tartar that could cause gum disease. Then, a member of the dental team polishes your teeth.
Advice
When your dentist is finished the dental exam, you will be able to ask questions and seek advice.
Maintenance
If you have a bridge, denture, or implant, a dental exam is a good opportunity to ask your dentist to make sure it's in good shape.
Dental exams may seem expensive, particularly if you are on a fixed income. However, many dental practices offer convenient payment plans. If you are covered by a dental benefit plan, your dentist can help you determine the extent of your coverage before you start treatment.
Many dental practices are able to transmit dental claims through CDAnet, an electronic claims processing system that speeds up the reimbursement process. Depending on your plan, you may receive your cheque in less than a week. Ask whether your dentist has registered for CDAnet.
While managing health care expenses is an economic reality for many Canadians, it is important to remember that in the long run, dental exams cost much less than waiting until you have a serious dental problem.
Regular preventive dental care and maintenance are always less expensive than treatment. Regular dental exams, along with daily brushing and flossing, is the most important thing you can do to preserve your dental health.